Salle Chico Mendes (SSol)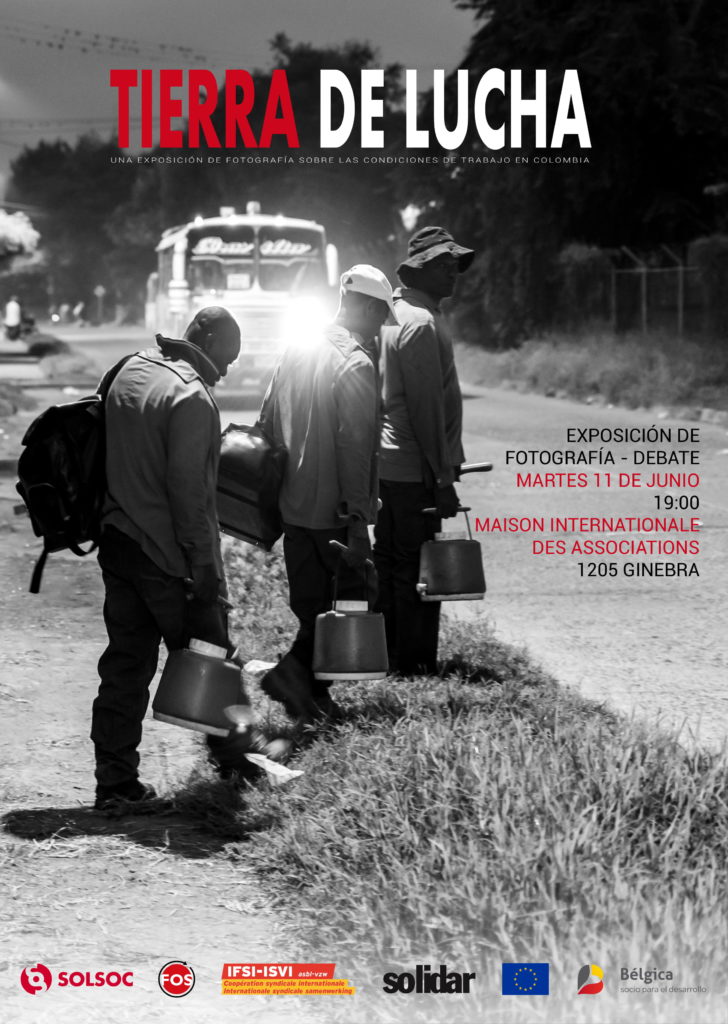 Exhibition/debate: The challenge of decent work in Colombia
When you think of Colombia, you often picture a flourishing nature and cities full of life, but unfortunately also poverty and violence. Despite the Peace Agreement, instated in 2016 (?), inequalities remain significant and a vast part of the population has no prospects for a decent life. Working conditions are particularly precarious: unemployment rate is at its highest, the informal sector has peaked and the pension regime is on the verge of collapse. Despite this situation, the unionization rate barely reaches 4.6% of the active population. Trade union repression is one of the highest in the world and social dialogue is almost nonexistent.
2019 is a symbolic year for workers around the world: it marks the 100th anniversary of the foundation of the International Labour Organization. In this framework, FOS, IFSI, Solsoc and SOLIDAR invite you to a debate on the working conditions in Colombia in the presence of two Colombian trade unionists. The discussion will be followed by the opening of the photo exhibition "Tierra de Lucha", around a glass of friendship and Colombian specialties.
When?
Tuesday June 11, from 7:00 p.m. to 9:30 p.m.
Where ?
At the Maison Internationale des Associations, Rue des Savoises 15, 1205 Geneva.
With whom?
Rafael Lamas – IFSI/ISVI, International department of the FGTB/ABVV
Berta Yolanda Villamizar Jaimes – Trade union SINTRAIMAGRA (domestic work sector)
Juan Carlos Galvis – Trade union SINALTRAINAL (food industry)
Languages
English, Spanish
Exposición de fotografía/debate: El reto del trabajo decente en Colombia
Cuando uno piensa en Colombia, piensa en una naturaleza floreciente, en ciudades llenas de vida, pero también en la pobreza y en la violencia que ha dejado sus huellas. A pesar del acuerdo de paz, las desigualdades siguen siendo significativas y una gran parte de la población no tiene perspectivas de una vida digna. Las condiciones de trabajo son particularmente precarias: las tasas de desempleo e informalidad están en su punto más alto y el régimen de pensiones está al borde del colapso. A pesar de esta situación, la tasa de sindicalización apenas alcanza el 4,6% de la población activa. La represión sindical es una de las más altas del mundo y el diálogo social es casi inexistente.
2019 es un año simbólico para los trabajadores y las trabajadoras del mundo entero: marca el 100º aniversario de la Organización Internacional de Trabajo. En ese marco, FOS, IFSI, Solsoc y SOLIDAR le invitan a un debate sobre las condiciones de trabajo en Colombia en presencia de dos sindicalistas colombianos/as. El debate será seguido por la inauguración de la exposición de fotografía "Tierra de Lucha" en torno a un vaso de la amistad y especialidades colombianas.